Turn Your Idea into A Business
 Synergies Work has partnered with the the Georgia Council on Developmental Disabilities and the Green Workers Cooperative to help individuals and businesses turn their ideas into successful cooperative businesses. Learn more about the co-op business model. 
The course is FREE for all selected participants. The intensive program starts on April 7 & ends on May 28th. The virtual class will meet twice a week for 2 hours. If you have an idea and the passion to start your business then gain access to helpful resources.
Green Worker Cooperatives is a New York-based organization and serves immigrants and communities of color. They build, grow, and sustain worker-owned green businesses to create a strong, local, and democratic economy rooted in racial and gender equality. To learn more click on GWC.
Form a team. A team can be of 2 people or more.
One of the partner should be a person with an intellectual disability.
Have a single business concept when you apply.
You do not need to be in business- we work with teams at the idea stage.
Register for Our Free Information Session
Date: Thursday, March 19
Time: 1- 2pm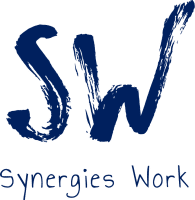 Synergies Work is an independent non-profit organization committed to expanding business opportunities for people with disabilities. By inspiring people to do the things that inspire them, we help bridge the gap between people with disabilities and the abundant untapped opportunities that are all around us.
The mission of GCDD is to advance social change, public policy, and innovative practices that increase opportunities for individuals with developmental disabilities and their families to thrive where they live, learn, work, play, and worship in Georgia's communities.